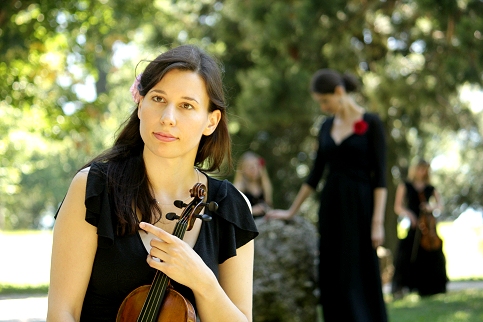 Magdalena Malá
violin, viola, viol
Magdalena studied violin at the Prague Conservatory (Prof. D. Zárubová) and historical performance practice at the Týn School – Collegium Marianum (Charles University) with MgA L. Torgersen. She has also taken part in numerous early music masterclasses and workshops, with C. Mackintosch, K. Debretzeni, D. Deuter, L. Russel, A. Steck, R. Richter, M. Glodeanu, among others.
She appears regularly on the concert platform, where she frequently performs with leading baroque ensembles and orchestras such as Musica Florea, Capella Regia Praha, Collegium Marianum, Collegium 1704, Ensemble Inégal, Harmonia Delectabilis, Hipocondria ensemble, Musica Salutaris, Musica Figuralis, Temperament 430, and Ensemble Fiorello. Since 2010, Magdalena has been leader and soloist for Ensemble 18+, which presents original interpretations of Czech classical repertoire.
Magdalena also performs frequently, both as a soloist and as a chamber musician, at many festivals in the Czech Republic and abroad, and is involved in many international early music projects, CD recordings, and broadcasts for radio and television.