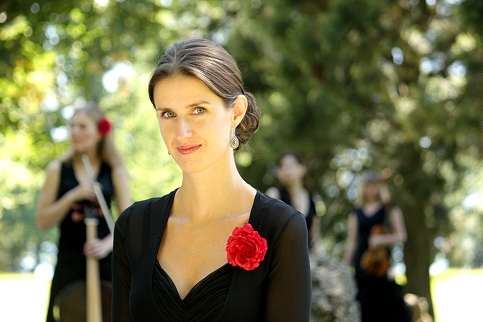 Lucie studied opera singing at the Janacek Academy of Performing Arts (JAMU) in Brno (A. Barová). During her studies she also studied abroad Universität für Musik und darstellende Kunst in Vienna (C. Visca), and at the Anton Bruckner Privatuniverzität in Linz (K. Beranová), and attended a course at the ZHdK in Zurich. She won bursaries to attend numerous masterclasses and summer schools abroad, with L. Spitzer, R. Hanssmann, P. Olech, K. Beranová, P. Rozario, J. Hassler, C. Pelon, M. Ch. Kiehr, D. York and E. Tubb.
At the Leoš Janáček International Singing Competition, Lucie won 1st prize and also won the award for the best performance of contemporary Czech compositions. She has also won an award at the Internationale Sommerakademie Prag-Wien-Budapest for the best interpretation of works by L. Janáček, and in 2012 she was awarded the 1st prize at the ABA Music Awards (Austria Barock Akademie Gmunden, R. Dubrovsky).
She has appeared as a guest soloist at the National Theatres in Brno, Prague and Bratislava. She frequently performs on the concert platform in the Czech Republic and abroad, and has performed at numerous music festivals including Pražské Jaro, Moravský podzim, Forfest, and Janáčkův máj. Alongside baroque music (Musica Florea, Ensemble Inégal, Hoffmusici), Lucie also performs 20th and 21st century compositions (ISHA trio).